Easily Find What You Need in Your Kitchen Drawers!
Kitchen drawers can collect lots of different utensils and gadgets.
Some kitchen accessories are necessary for everyday use. Others are crazy gadgets that we see in the home store or on TV that claim to make it easier to peel a cherry!
Making our space as simple as possible will give us more space to be productive and keep the kitchen clean!
RELATED POST: KITCHEN COUNTER ORGANIZATION
Over the years, our drawers get stuffed. If you look in your drawer you may find that you don't use half of what is in it!
It's frustrating when we can't find what we need and our hands are full while cooking for baking. Here are top tips for drawer organization in the kitchen.
CLEAN OUT KITCHEN DRAWERS
There is no rule that you have to keep certain items in your kitchen.  On the other hand, if you bought something you thought would be a great tool, but isn't, don't feel obligated to keep it.

I understand that you don't want to feel like you wasted your money.  However, if you are keeping items you don't use, you are wasting drawer space. Plus, you are constantly reminded of what you bought and how you aren't using it.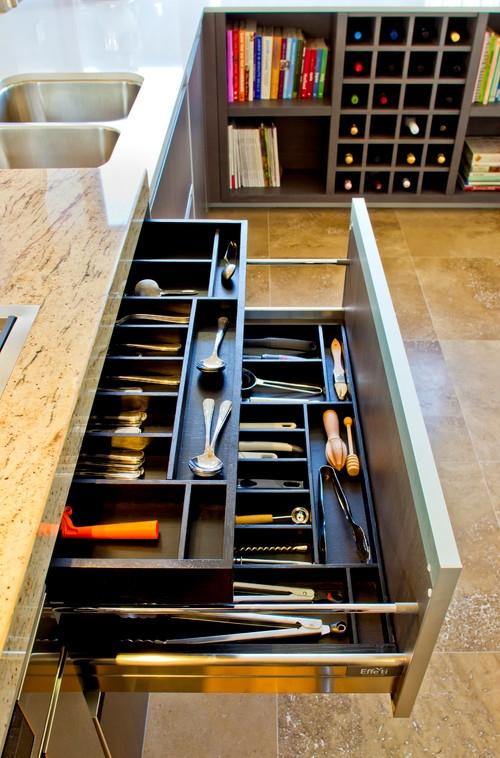 STEPS FOR DRAWER ORGANIZATION
Clear one drawer at a time. This breaks the task down into smaller chunks. You can do this project over a few days instead of having kitchen counters remain cluttered during the project.
As you clear out your drawers ask yourself, "Do I love it?", "Do I use it?", "Does it work easily?"  These simple statements will help you to make the decision easier as opposed to thinking, "I should keep it."
Lay items and utensils on a kitchen towel to sort. Make a single layer of your kitchen items and utensils on towel so you can see everything easily. If you need to clean up quickly to cook, you can roll up the towel and get back to your sorting later.
Have a bag or box handy to load all the items you will be getting rid of. Once you have sorted through all your drawers, toss or donate the items you sifted out. Do not leave items in your house, you may be tempted to go back through and dig something out.
Clean each drawer and wipe down the insides and if you'd like, use liner in each drawer. Using

shelf and drawer lining

makes it easier to keep your drawers clean, and they look great too!
WHAT KITCHEN ESSENTIALS DO I NEED?
Here is a list of suggested items for your kitchen utensil drawer.
These are only suggestions.
If you have a certain items you love to cook or bake with, you may want to add to this list of essentials.
By having the essentials, and not too many if any fancy gadgets, you will save drawer space.
KITCHEN DRAWER LINERS
Easy Liner Shelf Liner, Top Cabinet Multipack, 6-Rolls

I have used different kinds drawer lining.
I like the plastic decorative lining for smaller drawers, and the non-slip lining for larger drawers where I use drawer dividers. Some people may not use anything at all.
It's all personal preference.
These liners come in different colors, sizes, and designs. Take the time to measure each drawer before you cut the liner.
To keep your drawers organized, make time each season to empty the drawers and wipe them out. This will ensure your drawers will stay organized and fresh.
DRAWER ORGANIZERS FOR THE KITCHEN
Once you have sorted and cleaned your drawers, it's time it decide how you want your drawers to function. Instead of dumping your utensils into a drawer, you can create a system with dividers and containers to make everything easier to find. Here are some creative ideas to make the most of your space.
I love to use dividers in drawers that are larger. It can be frustrating to have utensils all mixed up and intertwined. Also, if you have a "junk drawer" and would like to have your office supplies organized, dividers can make it a "clean drawer".
Using dividers that are adjustable or come in smaller pieces, gives you the flexibility to fill most drawers. Measure first before you order so you feel confident they will fit.
&
Plastic Interlocking Drawer Organizer Bins
Plastic Interlocking Storage Bins, 8/pk (Set of 2)
Expandable Cutlery Drawer Organizer & Dividers
&
CONCLUSION
Using these simple steps for drawer organization in the kitchen, will help you to be more productive. Nothing like wasting time and getting frustrated looking for what you need. I like having less tools. That way I am not untangling my kitchen utensils while I am trying to cook!
Enjoy being in your kitchen and not wasting time looking for the tools you need to cook and bake!
Cheering you on to a more simple life!