College Boy Dorm Room Ideas and Packing List
Your son is probably getting excited for the upcoming school year. He is going to be on his own, making his own decisions and creating his own schedule.
As a parent, I understand that you want to send him off with everything he needs to get a good start to college life. It's time to get him packed and ready for fun dorm life with a college packing list for boys!
WHAT DOES HE NEED?
Most boys are simple creatures which means they require less. I'm sure you have noticed this with your son living at home, and going to college is no different.
I found with my son, that it didn't take much time to organize and pack what he needed. With a little thought and time, getting prepared for school can be stress free!
Here are some questions to he can consider when preparing his list:
What are the comforts I have in my room at home?

What can or cannot do without?

Do I want to decorate my dorm room?

Am I driving or flying to school?

How much room do I have in my closet and drawers at dorm?

How much storage space do I have in the dorm bathroom?
TRAVELING TO COLLEGE
Your son knows what he wants to take college, and probably has a good idea how much room he has in his dorm.
An important factor when preparing for college is how you are traveling to get there? If he is attending school in state, and driving, there is more flexibility. You don't have to rent a U-haul. If he forgets something, he can get it on a weekend he comes home, or when you go to visit him.
Flying
If you are flying to drop him off at school, consider the airline and their luggage policies.
I love Southwest, especially since we can take two bags per person. We can also take additional bags or boxes for a fee. If you can keep the weight of the box or bag under 50 pounds, it may be less expensive to check them on a plane as opposed to shipping them.
Shipping additional supplies is another option, but that can get expensive. If your son has his P.O. Box number at school, you can drop ship from online store straight to P.O. Box. This is an awesome option especially with Amazon Prime 2-day free shipping!
Driving
For my son's first year, my husband drove him to school.  We laid out ahead of time what he was taking. That way, we could gauge how many containers we needed to pack it all.
We used Tule bags, which are big duffle bags, and are flexible for packing in the car.
I also purchased storage containers, he used black, but clear is cool because you can see what's in each box without labeling. He could then use the containers as extra storage at the dorm, or we can bring back home until we picked him up at the end of the school year.
What I liked about the storage containers was that they could hold all the odd, small items and they wouldn't get crushed. They stacked easily in the back of the car. Testing the space ahead of time to see how the containers will fit, will let you know how many you can take and not be surprised the day of travel.
I included all the cleaning and personal supplies he needed for at least the first semester. (Ended up lasting the year, except for laundry soap) I figured since my husband was driving him, I wouldn't be there to buy him the supplies he needed.
Extra Items
Knowing that my son has all that he needs at school gives me peace of mind. But I understand from experience that he can always get what he needs. (Unless he attends school in the middle nowhere.)
When I packed my son for his first year, I included cleaning supplies and toiletries.  Yes, I know my husband could have done this, but it made me feel good to get him what he needed since we had the packing space. It's like nesting in reverse. It also saved his dad the time shopping once they arrived. 
This next year, I am flying with my son. We will pick up what he needs when we get to his school.
ULTIMATE PACKING LIST FOR BOYS
Here is a list of suggested items. Of course every person has different needs, different dorm situations, and resources. Some colleges provide some supplies, some don't.
BEDDING
Twin comforter – A regular sized comforter worked fine for my son's bed, but you may want

XL bedding

.
XL twin sheets – These can be found online and most stores. Make sure they are the "extra long" sheets
Pillows – head pillow, body pillow
Blanket(s)
Mattress Pad – XL sized cover. Adds a little more comfort to dorm bed too.
Bedskirt – If the bed is on the floor, instead of a bunk bed or a desk bed combination, this can help to create a secret space for more storage.
BATHROOM and MEDICAL
Everyday essentials – Soap, shampoo, deodorant, mouthwash, nail clippers, lotion, toothbrush/paste
Shaving supplies 
Vitamins
Paper supplies – Q-tips, toilet paper, tissues, cotton balls
Hair supplies – Hair dryer, comb/brush, gel
Towels – Bath towels, washcloths, bath rug
Shower supplies – Shower flip flops, robe, shower caddy
First aid kit – Including Band-aids, antibiotic cream, hot/cold pack
Prescription medication(s) – Including pain reliever, Epi-pen, etc.
Portable Shower Tote and Caddy

Whether he has a community bathroom or shares a bathroom with suite-mates, a shower caddy makes it easier to keep supplies in one place, and to grab on the go.
Even if the is a bathroom in a suite, having four or more guys who leave their stuff in the shower, can be a mess. I learned this myself when I discovered that I was helping to supply my other roommates with soap!
CLEANING SUPPLIES
Surfaces – Cleaning-wipes, surface cleaners & rags
Floors – Small vacuum or hand-vac
Bathroom – Multi-purpose cleaner and sponge
Laundry – Detergent, dryer sheets, stain remover, hamper, iron/ironing board, money for machines (check with school about forms of payment)
SCHOOL AND DESK SUPPLIES
Notebooks and paper

Pens, pencils, highlighters

Paper clips, pencil sharpener, hole punch

Staples and stapler

Calculator

Scissors

Tape and whiteout

Desk lamp

Extension cords

Trash can

Backpack

Index cards

Textbooks
FOOD AND SNACKS
Your son will likely have a meal plan, but may want snacks in between studying and classes to keep fueled. I would send my son a target gift card every couple months to help him to get the extras he needed like laundry soap, milk and snacks for his room.
They may not cook but they may need:
Cups, plates, utensils

Water bottle

Dish soap, dish rag, dish towel

Plastic food containers

Sandwich bags

Chip clips

Coffee maker and mugs

Fridge (may come with room)
Microwave (make sure it's allowed)
CLOTHES
The amount of clothes depends on where your son is going to school. Questions to ask herself:
Am I close enough to home that I can take one season of clothing and switch out at Thanksgiving or on a weekend I go home?

How much space do I have in closet and dresser at the dorm?

Because I am going somewhere warm, can I keep my clothing to a minimum?

How many pairs of shoes do I really need?

Do I need or do I have space for extra hanging clothes storage?
What's nice about hanging storage, is it gives more space for clothes if you have a small dresser, plus you can fit other items under the hanging shelves.
Having a laundry hamper and system will help your son to always have clean clothes in the drawers and not wait until he is on his last pair of underwear. I understand that this may not be an easy task if he doesn't have the habit already, but he'll get the hang of it!
Collapsible Mesh Laundry Hamper, Black

Hanging Accessory Shelves, Grey

ELECTRONICS
Take measures to keep your stuff safe, whether it's the dorm, library or otherwise.
Computer – cords, surge protector, multiple outlet cord
Headphones – earbuds, headset
Flash drive – backup drive, cd's
You may find using the school printer will save you the time to deal with a printer, ink and paper in your room.
ACCOUNTS AND IMPORTANT PAPERS
Bank card/checks

Insurance cards/paperwork

Identification/Drivers license/Student ID

Emergency Contact list

List of valuables and possessions (in case something goes missing)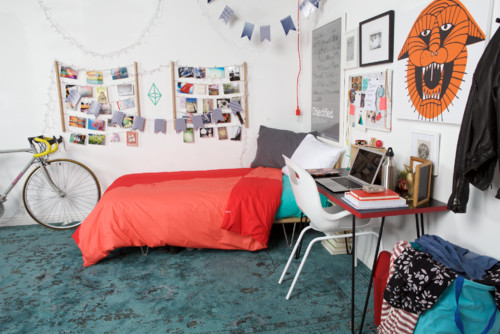 EXTRA STUFF
Everyone will have a different viewpoint on what to bring from this category. The less your son has in his dorm room, the less work to keep it picked up!
Bike – Helmet, bike lock, air pump. Keep in your room or lock up. Please check on bike regularly and have all bike info.
Games – Board games or game consoles. Think about how much time you will have, will the dorm provide some games and activities?
Photos and posters – Do you have the space for framed photos or to hang on walls?
Decorations – Any other items you want to make your space unique to you. Keep in mind you have a small space.
Fan
Flashlight
Sewing Kit
Small tool kit
Sports equipment
Musical instruments
DOWNLOAD COLLEGE PACKING LIST PRINTABLE
CONCLUSION
Planning ahead for all your sons needs for his new space, will give him the confidence that he needs heading off to school. It also will give you peace of mind that he has all he needs.
Packing in advance and knowing how you are going to transport his belongings, will keep the process simple and stress-free! Very exciting times!
I wish your son the very best of success in his upcoming year!