4 No Fuss Ways to Organize Stuffed Animals in the Kids Room
Do you feel overrun with stuffed animals in your home? Is your kiddo's room bursting with plushes? Without burning them in a big bonfire, it's possible to organize stuffed animals in kids room!
Stuffed animals are so cute, can hold sweet memories, and can pull at our heart strings when they resemble something that our kids love.
BUT . . . .
It blows my mind how much space these creatures can take up!
Whether it's a collection of Teenie Beanies, or the gigantic amusement park stuffed animals that could fill a recliner chair, stuffies need to be contained. To keep your kid's room from being taken over by stuffed animals, there are simple organization ideas to help!
Before deciding on how you would like to store them, sort through the stuffed animals with your kids.
Think about sorting on a regular basis, like right before Christmas. As they get older, your children may not have an attachment to animals they once did. Before you let go, you can take a photo of each one if it helps in the process of letting go.
There are some great organizations that appreciate new and very gently used stuffed animals for people with different needs. You can check with your county for foster care needs, churches, and shelters.
IN A HURRY? >> Find stuffed animal organizing ideas here!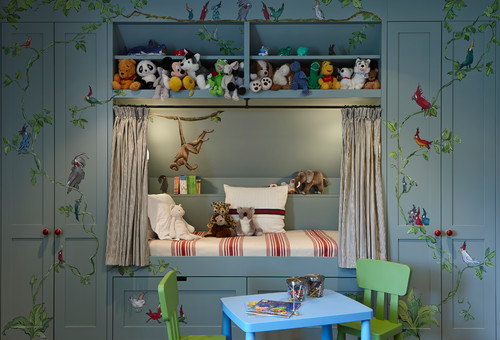 1. CLEVER WALL STORAGE IDEAS
When most people think about organizing something, they think about "what can I put this stuff in?" 
But some very creative and unique ideas can be "out of the box".  Vertical space is very valuable, and not everything needs to rest on a surface. 
RIBBON DISPLAY
There are multiple ways you can create a ribbon display for stuffed animals. Have fun playing around with the idea.
The style and width of ribbon, and type of pins or clips to hang the animals with, type of hanger or use craft ring, it's totally up to you.
Spool of ribbon

Clothes pins or larger clips

Craft ring, key ring, hanger with clips

Hook, like coffee cup hook

Scissors
Directions:
Measure length of ribbon you would like. (You may not want it to go all the way to floor)

Tie ribbon to ring/hook, or attach to hanger clip

Tie knots down the ribbon, about 6 inches apart (depending on side of your creatures) 

Add clothes pins to ribbon right above each know so they don't slide down 

Install hook into ceiling, or if using hanger, hang in closet or hook

Hang up ribbon organizer and attach fuzzy creatures
Similar displays can be ordered if you don't want to get crafty and you love the idea of displaying stuffed animals. Not everyone wants to bury their adorable stuffed animals in a storage box.
Chain Gang Toy Organizer – White

4 Pocket Hanging Wall Organizer

5 Tier Storage Organizer

MORE STORAGE IDEAS
Hang light weight baskets on wall 

Install curtain rod on wall and hang animals

Install shelves on wall

Hanging shoe storage in closet
Toy Chest, Elephant, Grey

Storage Bin Set, Dinosaur/Dragon

3 Sprouts Storage Caddy, Walrus

RELATED POST: How to Organized Kids Toys in the Living Room
2. STUFFED ANIMAL STORAGE NETS
Prince Lionheart Jumbo Toy Hammock

Storage nets are very easy to install, but you need to have enough space to hang it.
If you are ok with something hanging from the ceiling, this may be a good storage tool for your child.
Typically a toy hammock is hung from the ceiling. However hanging it lower may be easier to get stuffed animals picked up, and to avoid little ones trying to climb up and reach in a hammock hanging from the ceiling.
Decide what is safest and most helpful location for your child.
3. UNDERBED STORAGE IDEAS
Under bed storage is what is easiest for our kid's room. Their beds are high enough that containers can easily slide in and out.
These containers can hold lots of stuffed animals, and it keeps them dust-free!
If you don't have the space for storage under the kid's bed, bed risers help. We use them on two beds in our home. There is a cool set that allows you to adjust the height of the bed too!
Hefty Under Bed Storage Container – Clear

Adjustable Bed Risers or Bed

Bed risers definitely increase storage space. However, I recommend the amount of "stuff" stored under your child's bed is limited. (I have learned this from experience and it was frightening.) If too much is shoved under the bed, things get lost and it becomes a dark hole of stuff that the kiddos will avoid.
4. BEAN BAG STUFFED ANIMAL STORAGE
What a cool idea! 
I got such a kick out of this unique storage piece. Kids love having a place to snuggle up, and it can store all the plushes that would otherwise explode all over their room!
Kids can take the plushes in and out of the bean bag cover, and most of the covers are washable. The Boon Bag allows kids to see their animals too! You can also store blankets and pillows in the bean bag covers.
Boon Stuffed Animal Storage,Gray

Stuffed Animal Bean Bag Chair Storage

When I was in high school, I remember keeping my stuffed animals on shelves that I "made myself". I got cinder blocks and pieces of wood. (This was before IKEA was a thing). Pretty cost effective for a high school student!
I liked them so much, I did the same for my apartment in college. (Not to store stuff animals but as bookshelves.)
There are so many creative options now for storage for stuffies, as well as opportunities to give away gently used stuffed animals that could bless someone else.
Hope you got some great ideas for storing your kiddos plush animals. Plus, you now see how to easily organize stuffed animals in kids room and hopefully their floor will be set free!
Cheering you on to a more simple life!