Get Rid of Paper Clutter Fast in the Kitchen!
Kitchen may be for cooking and baking, but it is also the center of the home and family. Most interactions happen in the kitchen.
Therefore, papers usually creep in. Here are a few ideas to help beat the clutter and organize papers in the kitchen.
That's where the kids dump the papers from school, items to be filled out and mail from the day.
Even if you don't have an office space in your kitchen, you can create a space where you can get control of your papers in the kitchen!
RELATED POST: Kitchen Counter Organization Ideas

 ATTACK THE PAPER CLUTTER
It may seems so much easier to walk past the paper pile than to actually sit down to deal with it.
I get it. 
Paper isn't my strongest organizing area. In order to stay on top of it, I like to make simple systems that are easy to use, keep up, and look nice!
I have heard many times that not dealing with papers are delayed decisions. That's true. However, I can understand why people put off sorting papers, because I have done it too.
IT COULD BE:
Overwhelmed with the number of papers to deal with

Not sure what to do with a paper

 Hard to make a decision if you are going to take action on the paper

The paper has special meaning
WHAT SHOULD I KEEP?
How do we decide what to keep?
There are so many different kinds of papers, some important to our everyday life, some sentimental. It can be overwhelming to know where to even start!
We may worry we will throw something away that we may need later. Here are the basics on what you should keep for safe keeping that you may not be able to find anywhere online:
Tax papers

Official papers (home, products purchased, certificates)

Sales receipts for purchases that may be returned

Gift certificates
Ask yourself:
Can I find this somewhere else if I decide I need it later?

Can I find this paper online?

Should this be filed for safe keeping?

Why do I feel I need to keep this?
Once you have gone through your files, boxes, or piles of papers, you can decide how you will store your remaining documents.
WHAT YOU NEED
Basic tools to help you get through your pile include:
Recycle trash can

Camera/Phone

Online Storage

Paper filing system

New system for mail and papers
Have these tools near you as you make your way through your pile.
It will make the task go quicker AND help you to focus.
Create an environment where you don't have to go look for something in order to keep working and making progress.
The key to getting on top of the papers, is to go through all the papers to make decisions, then to put a simple system in place to keep from this issue from surfacing again.
Keeping focused, AND eliminating distractions, can be the key to getting through the daunting task of sorting papers.
I have shared before that papers are my least favorite to organize. Therefore, I have to come up with ways to deal with paper.
Here are a few ways we can handle it . . . or tolerate it:
Work in an environment we enjoy

Watch movies while we work

Listen to podcasts or books on CD while we work

Work along with your spouse or a friend

Break up the tasks into smaller chunks, Like 15-30 minutes . . . 30 minutes a day can keep the piles away!
Fujitsu ScanSnap iX500 Color Duplex Desk Scanner for Mac and PC

Fujitsu ScanSnap iX100 Wireless Mobile Scanner for Mac and PC

Decide what will work best for you. Do you want to scan all of your papers and keep in Evernote, a cloud or on a hard drive? Do you want to have beautiful files that will encourage you to keep organized?
Create a system that works for you and your family!
SIMPLE SOLUTIONS FOR PAPERS IN THE KITCHEN
MAIL ORGANIZER FOR KITCHEN COUNTER
Pair down first before you think about your storage needs.
By weeding out what is no longer needed, it will give you a better picture of how you want your space in your kitchen to look and function.
It's amazing all the creative solutions to help with those of us who have smaller spaces.
Using the vertical space you have, will be just as valuable as creating more space on the counter itself.
The file and mail box pictured is what I use on my counter to catch the kids papers or current items I need to take care of, like school papers.
We don't have a designated area in kitchen for doing paperwork. However, the kitchen is the center of our home, like most families.
KITCHEN COMMAND CENTER
Creating a station where you can store your papers and and other office supplies, will help you from creating too many "junk drawers" if you don't have a small office nook in your kitchen.
Don't feel you need to recreate fancy command centers you see on Pinterest.
Create a space that is perfect for your families needs. Otherwise, you are just creating more clutter.
The key is to:
Get your surfaces clear

Have papers organized

Have a simple way to communicate with the family
Over The Door Hanging File Organizer Wall, Office Supplies Storage

Magnetic Message Board Wall Organizer with 3 Hooks

Metal Woven Mail Organizer Storage Basket 2 Tiers, 6 Hooks

Magnetic Hanging Whiteboard Calendar and Corkboard

MAIL ORGANIZER FOR KITCHEN WALL
Do you lack space on you counter for a paper organizer? Are you tired of the piles?
If you have some space in or near your kitchen to take advantage of vertical space, using the kitchen wall can be valuable space.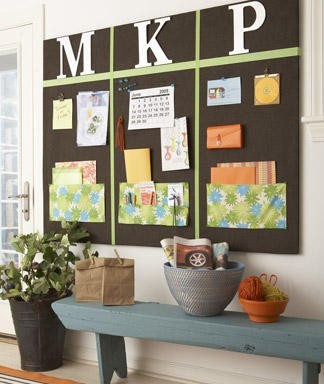 CONCLUSION
Your countertops in the kitchen is valuable real estate.
It is amazing how fast the mail, school papers, and important papers can pile up after a week, sometimes after a few days!
Creating a system to make a daunting task easier will hold you accountable and keep you consistent.
Ask family members to help with certain tasks. Create a system for the whole family to use for mail and other papers. That simple system will help you to avoid having to start all over with paper piles, and finally organize papers in the kitchen! 
The simpler the better!
Cheering you on to a more simple life!