3 Steps to Easily Organize Kids Dresser Drawers
Have you ever been super impressed that your child has all of their clothes picked up off the floor? You are think, "Man, they folded and put their clothes away! Awesome!!!"
You figure it would make your heart flutter even more to see how cute they folded their clothes and put them away.
You hesitate, but still decide to open the drawer. And then . . . EXPLOSION! What in the world! Are these my kids clothes? Do we own all of this?"
OR
Do you dread walking by your child's room because NOTHING makes it into their dresser drawers?
You say to yourself, "Why did we even buy a dresser if the floor is the closet and dresser? How can they even tell what is clean and what is dirty?"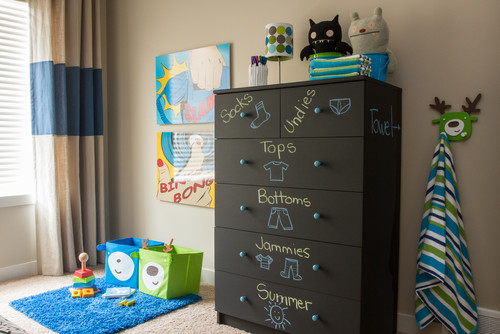 The good news is is that there are solutions to help with the challenge of getting your kid's clothes in the dresser drawers and even better . . . folded!
Step 1 –
KIDS LAUNDRY SYSTEM
There are times when my younger kids have mixed clean clothes with dirty clothes! Seriously?
Not that anything is a 100% fool proof system, but creating a laundry system for the kids can help in the first step to keeping drawers organized.
When laundry get frustrating and difficult is when:
There isn't one place for the dirty clothes to go.

There isn't a consistent system.
How do I know this? Because I have had to implement this in my home. (with a number of reminders!!)
Like with other tasks with kids, it's not always easy to get the laundry completed. Using age appropriate expectations, kids can be helpful, giving lots of praise and encouragement! Even teens!
Once the laundry is complete, it is time to fold. Taking the clothes from the dryer straight to folding is important.
If clothes stay in the basket, on a chair . . . . (or on the floor!!!), they begin to get over looked.
Step 2 –
FOLD CLOTHES
Ways to fold clothes that are simple for kids:
Roll

Fold in half

Keep flat
Try different ideas and see which one your child connects with. One technique will seem more fun or easier than the others.
The key is to have a system of folding that your child can follow through with or at least do a version of. It can be a work in progress . . . . at least that's what I keep telling myself.
I remind myself that my job as mom is to prepare them to be a loving, well-adjusted, self sufficient adult. As trivial as clean organized clothes may seem, some say, "how we do one thing is how we do everything."
Once you have a system for folding clothes, it can be a different story to KEEP them organized.
Sharing with your child the reason WHY it's important to keep clothes folded and in drawers, may help them to make the connection.
Maybe not at first, but over time, as they get older, it will. (Or at least that's what we hope for)
I remind myself that my job is to give my kiddos the tools to take care of themselves and their surroundings. It is their job to take the information and practice implementing.
Having reasons and examples to stay organized will help to motivate your child. Later, once they are grown, you may be pleasantly surprised to visit your adult child to see all that you have taught them, they have implemented.
Step 3 – LOADING CLOTHES IN DRAWERS
One of the biggest reasons why kids stop loading clothes into drawers and keeping them organized is because there is not a system in place. Knowing where everything belongs makes it super easy!
Ways to store clothes in drawer:
Plastic stacker

Drawer separators

Filing

Rolled
DRAWER SEPARATORS
These honeycomb plastic separators make it fun to keep socks, underwear and other small accessories organized.
There are two ways to use them in your drawers. They are flexible and easy to put together and take apart. They are super useful AND they look cute as glasses on little girls.
FILING CLOTHES
What's cool about putting clothes in drawers vertically, is it gives the ability to see all that is in the drawer without having to move things around. I love doing this in my sock drawer, so I helped my daughter do the same.
ROLL CLOTHES
This is my daughter's jammie drawer. Rolling her clothes in this drawer helps even the thickest of jammie bottoms to use less space and stack nicely!
Once you decide which systems will work best for you, it is a matter of maintaining it.
Maintenance is super important!
It can be super frustrating, for you and the kids, after spending all that time organizing the kids drawers, and in only a few weeks the drawers are back to being messy.
Here are a couple easy tips to keep dresser drawers organized!
Go through clothes regularly to make sure they fit and in good shape. Don't let old, small clothes take up space.

Get rid of stuff that the kids really don't like. I know it's hard when we spent money on the clothes. However if you know they won't wear it, why waste the space? This can be a struggle for me, but I am only making myself crazy!

The bottom line is, less clothes in the drawer, the easier to keep organized.
This can also help kids to wear a variety of clothes. When they can see everything they have, and less of it, they will get good use out of what they have. Saving you money!
CONCLUSION
Go back and revisit the kid's drawers seasonally to make sure everything is kept in shape. The kiddos will get used to this process and maybe even start doing it on their own!
When I see clothes stacked in our hallway outside my kid's rooms, I know that they have found clothes that no longer fit and it means, "go to donation"!
It may take some time to create the best system for your children, but once they get the groove and finds what works for them, they will be happy and feel good about their space!
Cheering you on to organizing success!