Finally Make Space to Cook on Your Counter!
My kitchen is not very large. Because of that, I have tested many solutions and found what I believe is the most popular kitchen counter organization ideas.
I have implemented some solutions in my own kitchen. Whether you have a small space or limited on storage, there are many creative ideas to give you the space you need to bake and cook.
IN A HURRY? >> Find Supplies to Declutter Counter Here

When counters are covered with too many appliances, stacked dishes, fruit or food, it doesn't leave much space for us to make a meal.
Not inspiring!
I look at the kitchen, the counters specifically, as a canvas for an artist. If you don't have open counter space to do the work you want, like rolling out dough, it will be uninspiring to be in the kitchen.
I am not always excited to cook, so having a nice space and environment helps me to be in the kitchen to cook.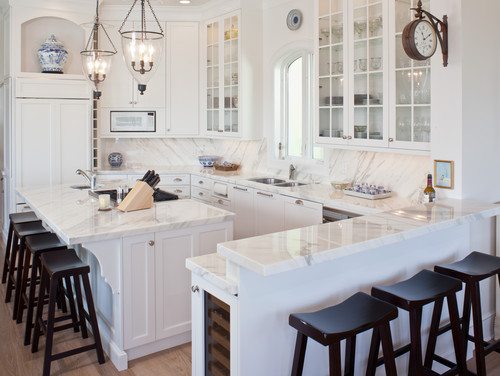 GETTING STARTED
Stand back and analyze what you currently have on your countertops.
I suggest you start at one end of the kitchen and work your way around.
Ask yourself, and the other chefs in the home, "Do we love using this? Is this necessary?"
Think about the shape and size of appliances and products. Gadgets and items look helpful and interesting . . . but are they really?
ASK YOURSELF:
Will this save space?

Is this item multi-functional?

Will it allow me to let go of other unnecessary items?
Our coffee station pictured shows how we use an additional plastic shelf to store all my husband likes to use for his coffee maker, as well as treats he likes to have with his coffee! I appreciate that it can be contained and just for him!
KITCHEN WALL RACKS
Kitchen wall racks make more space on your counters by moving your kitchen tools and supplies vertical. The counters are prime real estate in a kitchen. We are going to find solutions and kitchen counter organization ideas to give you more counter space while making your kitchen beautiful and functional.
Measure your wall space, taking into account your back splash. Also consider any appliances that need to be positioned in very specific areas. These racks are fairly simple to install, one is even hangs with magnets!
 Magnetic Knife Holder 
 Organizer for Knives 
 Ikea Steel Kitchen Holder
 Magnetic Hook Rack
COUNTER SPACE SAVERS
Knife Magnet Bars
Using a magnetic strip to hold knifes and other tools can help to clear your counter. This solution can also make more room in your kitchen drawers.
I find that our knife block holder can get in the way at times. Knife bars can help to make more space and make it easier to retrieve tools while cooking.
 Magnetic Knife Holder – Aluminum Rack
 Walnut Magnetic Knife Holder 
 Magnetic Knife Holder – Black w/ Stainless Steel Ends
Kitchen Wall Pot Racks
I have worked with a number of clients helping to organize their kitchen. In my past experience, I was surprised in some kitchen the amount of wall space available. This too is very valuable space just like the counter top.
Using kitchen wall pot racks will keep pots from being stacked on the counter. It will also save space in your cabinets if you stack pots and have loose lids. We have a rack that hangs from our ceiling and has saved us lots of space in our cabinets!
 Wall Mount Pot Rack – Hooks & Shelf
 Kitchen Utensils & Pot Rack – 2 Shelves
 Old Dutch Bronze Pot Rack – Hooks & Shelf
I recommend wiping down your kitchen racks and pot racks regularly. It's not a huge task, but it will keep your pots and pans fresh. The easiest thing I have found is to unload your pots and pans and give the rack a quick wipe down with a duster.
&
Swiffer 360 Dusters Extender Kit – up to 3 feet
Swiffer 360 Dusters Refills, 10 Count
Kitchen Counter Organizers
If you find miscellaneous items on your counter that have no home, there are many creative solutions using your counter space. I really like the clear shelves I purchased that I use for our coffee station. I also use them in my pantry to increase food storage space. 
Do you find that your papers are out of control? Do items non-kitchen related find their way to your kitchen counter? I love to use my letter and file organizer. I have a file for each child and their special papers, and a place I too can place important papers. It helps keep the paper piles of the counters!
Expandable Stackable Kitchen Cabinet and Counter Shelf
Wine Storage Rack for Kitchen Countertops – Holds 6 Bottles
Jumbo Stainless Steel Utensil Holder – (Utensils not included)
CONCLUSION
Discarding kitchen items you no longer use, and finding the perfect solution to store your items, is possible using the variety of ideas shared.
Whether it's changes to your counter arrangement to make more space, the wall space, or a combination of the two, you can create an inspiring place to make delicious meals!
Cheering you on to a more simple life!