Fun and Easy Make Ahead Lunches Kids Will Love!
For years I made my kiddos lunches. It was like something out of a movie, but I had only 3 kids instead of a "dozen".
The morning rush was crazy between getting the kids their breakfast on the table, and making their lunches before they had to head out the door. I admit, it could be quite comical some days. 
Once my oldest started high school, he wasn't as keen on the idea of taking a brown bag lunch to school. That got my wheels turning. I may have been making lunches all these years, but that doesn't mean I have to keep doing it!
Get help!
My twins were still in elementary school, so this was the perfect time to start a new routine!
I am all for easy make ahead lunches kids will love!
CREATING A NEW HABIT
I admit it.
I used to be VERY organized with meal planning for our dinners, especially when the kids were younger. I still plan head, but not in as much detail.
Plus, I am not as enthusiastic about dinnertime. (I'm hoping this is a phase!) So creating a system to help with meal prep is AWESOME!
Creating a new habit as a family can help with accountability, and gives encouragement if everyone is helping!
I get it that the kids have days were they aren't excited to make their lunch. They are feeling what I am feeling about dinner some nights.
However, I feel that by them taking over making their own lunch, (with a little guidance depending on the age), helps them to learn how to make new things, create a balanced meal, and encourage the independence they crave!
Waterproof and Insulated Lunch Cooler Bag

Little Bento: 32 Irresistible Bento Box Lunches

Bento Lunch Box With Insulated Thermos

Insulated Thermal Lunch Bag – Camouflage

Will their lunches be the perfect magazine photo spread. Not very likely. But I have been impressed with what my kids have come up with! 
I can see some of you rolling your eyes thinking, "it's just easier if I do it for them . . . this will take too long!i" I get it. I feel that way about some tasks too.
What if we looked at this as the spring board to independence and later down the road a self-sufficient adult.
IN A HURRY? >> Find Quick Lunch Packing Solutions Here

BENEFITS OF MAKE AHEAD MEALS
It may take a little longer at first to stick with the habit of making lunch ahead of time. It's a new routine, and all new routines and habits take a little getting use to! Helping each other will make it so much easier!
MAKING IT AHEAD MEANS:
Less rushing in the morning to make lunch

Less fighting for counter space (or is that just my kitchen?) in the morning

Creating a healthier meal because more time for planning
When mom makes lunches in morning, they may be healthier, but time can be pressed. If you have your kids make the lunch, it can save you time, but they may also shove a bag of cereal in their pail because they got lazy or wait until the last minute.
Along with letting go of making lunches for my kids, I also expect them to remember their lunch.
Of course, if I see a water bottle or lunch box on the counter as they are walking out, I will get it for them. But they have had some days of tummy grumbling because they jetted out of the house without their packed lunch.
It's sad for them, but it will serve them well because they WILL remember it for the next day. They'll take their time packing for school!
PREPARATION FOR MEALS
For some, planning can be the hardest part. But if you are doing this as a family, you can work together deciding who can help with which tasks.
SHOPPING
I don't mind doing the shopping, but it's not my favorite to make the list. My husband sometimes will come with me to the store while the kids are at youth group. That makes it more fun.
Go grocery shopping with the kids wasn't my favorite thing to do. I had a hard time focusing. I still feel that way.
If they have input on the grocery list, my kids are cool with me going on my own. I personally feel challenged to bring the whole crew to the grocery store. 
For some families, they like going to the store and doing it together. There are times where it is unavoidable with my kiddos, because of schedules.
When that happens, I split up the grocery list and have them retrieve some of the items. That way they feel part of the process, I'm not tripping over them, and everyone is happy.
There is also the option of Amazon's Prime Pantry. Get food delivered to you! you don't have to buy in bulk and they offer coupons if you like saving more.
PREPPING FOOD
Once the shopping is done, you can prepare the food ahead of time by:
Washing all the fruits and veggies

Cutting them to your desired shape and cutting grapes to smaller portions

Filling baggies and containers with lunch sides

Make ahead salads and fruit bowls in containers and place in fridge

Make sandwich the night before

Organize food in pantry so it's easy to take out for kids when loading lunchpail

Pull out all dried goods the night before and put in lunch box
At the end of the day, kiddos can unload their lunch boxes and get things prepped again for the following day.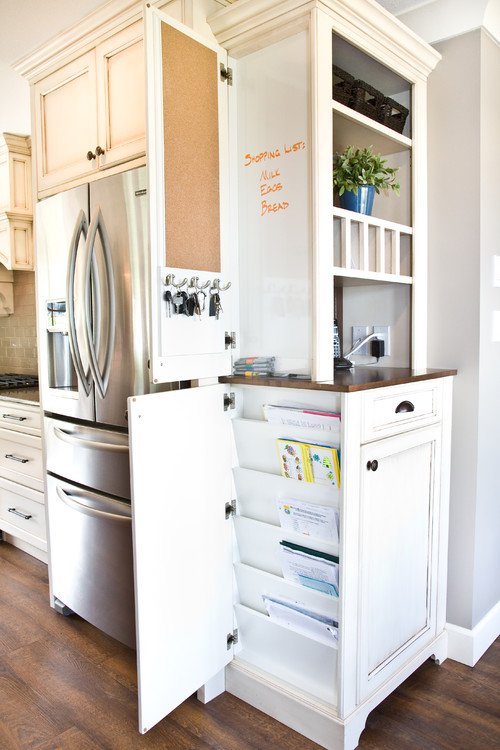 PACKING LUNCHES
The best way to keep packing lunch easy is to start the night before. Loading up items that aren't perishable gives you a jump start! On our white board in kitchen I listed for the kids what they should include in their lunches. Otherwise, they will take just a couple things that they grab from the cabinet. NOT COOL!
THE LIST INCLUDES:
Drink/water bottle

Snack

Main course

Side

Fruit or veggies
IDEAS FOR MAIN COURSE:
Sandwich – made the night before
Yogurt – fruit to mix in
Cheese Quesdilla – can add chicken and other topping.
Soup – Can be warmed before school for thermos or at school.
Spaghetti – Put in thermos warm or in food container and warmed at school.
Toasted Bagel – toppings can include meat, sliced cheese, cream cheese.
Pita Bread Sandwich – insert meat and cheese, or create a pita pizza.
Mac and Cheese – in thermos or container to warm at school.
Wraps – using a tortilla or piece of lettuce and load up with anything. Cream cheese wrap is yummy and easy.
IDEAS FOR SIDES:
Sliced veggies and dip

Crackers

Tortilla chips

Pretzels

Cucumber and cream cheese

Fruit salad

Banana bread

Hard boiled eggs
Soups, spaghetti, and baked quesadillas can be made ahead of time and put in the freezer. Planning ahead and cooking in bulk will make it easier during the week when packing lunch.
Soups and spaghetti can be frozen in a glass jam container, or whatever works best for you. Take out the serving the night before and put in fridge. Warm up and put in thermos.
Kids' Reusable Lunch Box Container Set w/ Ice Packs

These six snack and food containers are perfect for sides.
I like them because two of the containers include small ice packs that attach to the lids and easily remove to wash and put back in freezer.
Fresh fruit seems to taste better when chilled, plus there is room to add yogurt too.
They are easy to clean and fit well into lunch boxes. The lids are easy to take off. I wash by hand.
Ice Cube Trays for the Perfect Ice Cube and Little Ones Snack Tray

LITTLE ONES LUNCH
Little people's lunch time at home has more flexibility. Creating a simple and fun meal, will make it easier down the road when they start making their own lunches for school.
Using trays or dishes with separated areas, kiddos can learn at a young age how to create balanced meals. Using the same list I mentioned above, they can help to create their lunch too! It is fun to watch how excited they can get making food in the kitchen. 
Because my twins helped in the kitchen starting at a younger age, I feel they are more open to helping create their food, and not afraid to get creative in the kitchen.
RELATED POST: Ideas for Organizing the Kitchen Pantry
PACKING LUNCHES FOR PICKY EATERS
Making lunches for picky eaters and helping them pack can be a challenge. It's possible though!
The upside to a picky eater making their own lunch is they feel they have "control" over what they are eating.
It was not always easy packing lunches for my picky eater. I would experiment with different foods. Some items in his lunch routine would need to stay the same, but I would try to introduce as much new stuff as possible.
New food was introduced at dinner time. That way, I could feel fairly confident sending it in a lunch knowing he would like it.
Giving your picky eater the list above to choose from and experiment with, will increase their menu, and they will feel good about having a say in what they are eating. Plus you will feel good knowing they are eating a good variety and everyone is happy!
The presentation, how the food is packed, can improve your chances of success with a picky eater meal. Make it look interesting and pleasing. It may not always work out as well as we like, but over time it will get better. 
KEEP IT FRESH!
Trying new recipes and ideas, will keep lunches from getting boring. Asking the kids to think of new ideas or going through cookbooks or online, having them help make it as much as possible, will keep the lunch routine from getting old.
You can keep it fresh by creating items based on the seasons, or add a little fun around the holidays with themed food, or even using fun items to pack lunch will help. Cute cloth napkins, cool lunch boxes, or fun bento boxes are just a few ideas.
No one needs to be Martha Stewart, just do what works best for your family!
Have fun and get creative making easy make ahead lunches kids will love!
Cheering you on to a more simple life!