Utensils Essential for Cooking and Baking!
Do you find yourself limited on kitchen space like I am?
Keeping kitchen utensils for cooking and baking that are essential tools, can help us to save on space. After some research, I created a list of suggested items for your kitchen utensil drawer and cabinets.
These are only suggestions! I am not a serious chef or baker, so I realize that these are the basics. 
RELATED POST: KITCHEN COUNTER ORGANIZATION
If you have gadgets that you enjoy using, or a certain way that you like to cook, you may want to add to the helpful kitchen essentials guide provided below.
WAYS TO STORE YOUR KITCHEN GADGETS
Utensil holder

Drawer

Rollout shelf

Magnetic wall storage
UTENSIL HOLDER
Even though utensil holders take up space on your kitchen counter, It makes it easier to grab what you need while cooking. 
I have one on my counter even though I don't have much space. I limit the number of items that go in the holder. Only The wood spoons and utensils that I use regularly to cook are located there. I keep it right next to my stove.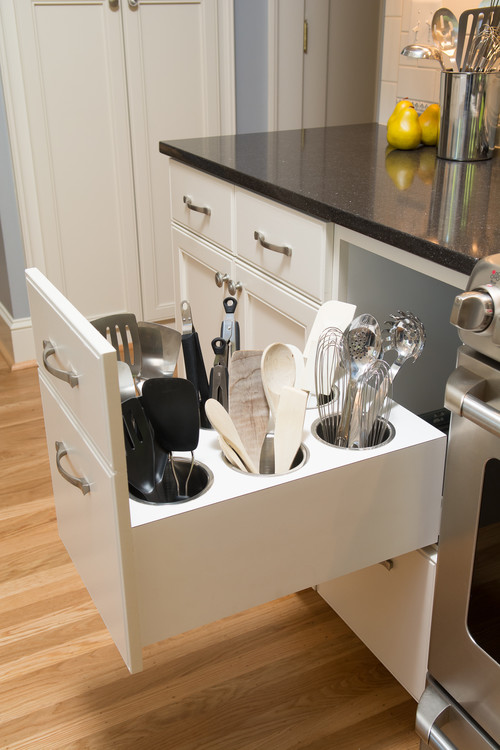 MAGNETIC WALL STORAGE
Would you like to save drawer space? Do you like unique solutions?
Using magnetic wall storage is both!
This is simple as easy solution to save you space, have utensil close to cooking space, and take advantage of vertical space.
DRAWER STORAGE
There is a large variety of storage solutions for drawers.
I recommend sorting through what you have in your drawer and decide what you will keep.
Then measure the drawer. This enables you to get the storage solution that fit your needs and your drawer!
Narrowing down what you keep in the kitchen will eliminate the frustration of not having a place to store your kitchen supplies.
I admit, I have found things in my utensil drawer that I had no idea what it did. Or, I have bought a gadget that didn't really do the job that it promised on the box or on the entertaining commercial.
Editing what you store in your kitchen space will help you to find what you need easier and give you the space enjoy cooking!
WHAT WOULD YOU ADD?
Do you have gadgets that are essential to you that aren't on this list?
I would love to hear about it!
CONCLUSION
Because my kitchen is smaller it forces me to get creative on how I store what I use to cook and bake.
I think this is actually a benefit.
Having a smaller space forces me to keep my space simple and not have as much 
Cheering you on to a more simple life!