The Best Gifts for Organization Freaks!
What does one get for friends and family members that don't care for gifts that create clutter or are super organized?
Instead of questioning what they would like, give them what they would probably be excited to receive . . . . gifts that help to get even more organized, or doesn't add clutter to their home.
RELATED POST COOL AND USEFUL CLUTTER-FREE GIFTS FOR YOUR TEEN
Most of us have friends and family who like to be organized or they live a simple life.
When it comes to birthdays and holidays, it is difficult for some organized or minimal people to get pumped about the idea of gifts. They may like the idea of gifts, but dread the idea of large, clutter building , non-useful gifts.
Your organized friends and family members may never tell you this, but they don't want to have the extra chore of figuring out what to do with the gift you gave them.
Giving them a practical, useful, or consumable gift, that is personal to them, can be something that they can get excited about!
Here are some ideas that will get your loved one all organized geeked out!
PRACTICAL GIFTS FOR ORGANIZED PEOPLE
Giving a gift that our friend or family member can use in every life is perfect!
People feel good about receiving a thoughtful gift that they can get lots of use out of. It can be disappointing to receive something that one has no idea what to do with . . . it takes up space, it's not functional, and some will feel guilty for not wanting what they received.
Some people will hold onto gifts that their loved ones gave them because they aren't sure if they will offend someone, disappoint them, or just feel guilty for getting rid of it.
Some organized or minimal people have no problem letting go of things that they don't want. They should be able to do that. If it's a gift, they can do with it what they please.
Here are some useful gifts for your organized loved ones:
COOL KITCHEN ORGANIZATION
Those who enjoy being organized usually LOVE to be organized in the kitchen. Nothing says "heaven" than having everything carefully stacked and labeled.
The products below are perfect as individual gifts or can be turned into a fun gift baskets.
Using the clear containers, you can add yummy food, snacks, or spices as well as the labels and spice tins. Wrapping it up with cellophane and a bow will make a beautiful gift!
24 Magnetic Spice Tins, 200 Labels, 4 Stainless Steel Measuring Spoons

AllSpice 208 Preprinted Water Resistant Bulk Pantry Labels Set

6 Piece Fridge and Freezer Stackable Storage Bins

GEEKED-OUT OFFICE ORGANIZATION
It may be hard believe, but it's true, some people love having an organized office.
Organized papers is my kryptonite when it comes to being organized. I can get through it, but it can be like chewing on nails. Yes, that much fun. I have found using simple and pretty paper organizers help!
Here are some cool ideas to support those who have the illness of loving to organize their office with a few fun supplies.
Fred Desk Donut Push Pin Holder

Organizer-Waterproof Travel Pouch Zippered Case

Knock Knock Make a Decision Pad

GOOD CLEAN ORGANIZED FUN
Nothing says "party-time" than rockstar cleaning supplies. There are some cool cleaning toys!
However, make sure you aren't giving them items that aren't quality and are only helpful for minimal functions.
Picking a couple products, along with delicious smelling hand soap or dish soap, will make a great gift basket!
Dusting Mop Slippers, 5 Pairs Microfiber Sweeping Slippers

Power Drill Heavy Duty Stiff Bristle Scrub Brush Cleaning Kit

Reusable Silicone Gloves with Wash Scrubber Heat Resistant

THERE IS AN EXCEPTION TO THIS CLEANING GIFT! 
If you are a husband, thinking that this category would be perfect for your wife . . . . I'm telling you that you would be incorrect. I am doing you a huge favor referring to the section "consumable gifts" which includes gift cards and time. You're welcome.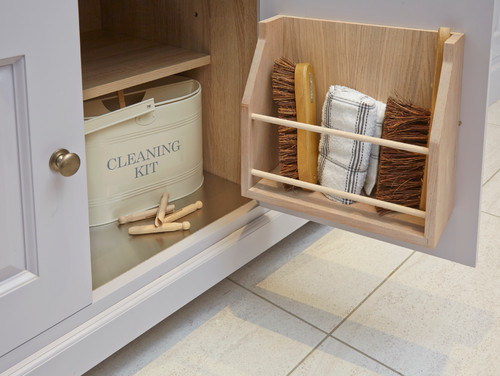 CONSUMABLE GIFTS
One of the best ways to ensure that you are going to give your loved one a gift that will collect dust is to give them something they can consume. This is not only useful and practical, but a huge space saver!
You know what they enjoy doing, or places they like to spend their time at. It's the perfect gift saying "have a good time on me!"
GIFT CARDS
I know my step-dad loves Subway. He also does not receiving gifts.
Giving him a gift card to Subway is a win-win. He isn't receiving clutter he won't use, and I can picture him getting his favorite sandwich at his neighborhood Subway.
Your organized and clutter-free friend would be thrilled to get coffee or dinner on you!
FOOD FUN
Does your loved one love to cook or snack? Creating a yummy food gift basket may be the perfect gift!
I have done a number of these, knowing that the person liked the food that I added, and that it won't create clutter in the kitchen.
I have created themed baskets, gathering items and personalizing it. If you don't want to create a basket, below are a few yummy ideas that your loved one would be thrilled to receive!
Chocolate, Caramel and Crunch Grand Gift Basket

Gourmet Chocolate Biscotti Gift Basket

Large Roasted Nut Verity Fresh Assortment Tray

I LOVE to give chocolate covered strawberries to family! They are gobbled up quickly, super special and beautiful, and consumable.
I have ordered a number of times from Golden State Fruit, and have had calls from family that are THRILLED with their special delivered treat!
Golden State Fruit 12 Love Berries Chocolate Covered Strawberries

Golden State Fruit Sweet Bloom Dried Fruit Deluxe Basket

TIME
What is most precious, and clutter-free above all? Our time!
Planning special outings or evening out can be something that your organized friend or family member would love! Especially since it is one less thing that they have to plan and organize!
Creating special coupons for time, buying tickets for entertainment, like from Groupon, or simply surprising them for a night out, will be a gift they won't forget. Have fun with this gift, they will appreciate it!
CONCLUSION
If you buy a gift for the organized person in your life and they seem disappointed, don't take it personal.
Have fun thinking and planning how you want to show your love for them with a gift. Consider if they would love to receive a tangible gift, or if they want the gift time.
Gift Basket Ideas for the Organized Person:
Snacks and food
Desk accessories
Movie tickets and snacks
Concert tickets and band t-shirt
Favorite food
Gum, mints and sweets
Useful kitchen gadget and food
Lotion and other self pampering products
Gas gift card and car organizing accessories
Grocery store gift card with a few edibles
Honoring the organized person in your life with a special gift that suits the way they live, will be a big hit! You will feel good knowing that you didn't add to their clutter and you put a smile on their face!
Cheering you on to a more simple life!